<! ========= Cool Timeline Free 1.3.2 =========>
Dr. Muscle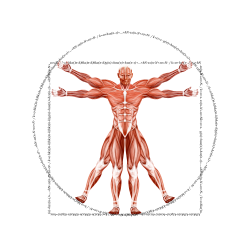 Fullscreen timer
Between sets, you'll now see a fullscreen timer with your next set's reps and weight.
Better Training Logs
You can now edit your logs and see at a glance total reps, sets, and load for every exercise.
Offline Access
Dr. Muscle used to require an Internet connection to work. That was a problem for some users working out in gyms with bad Wi-Fi. With the
offline access update
, you'll only need to connect before and at the end of your workout (you can even connect before you leave the house and when you return)!
Challenge mode
In 2010, Dr. Bryan Mann and his team at the University of Missouri found a new training strategy to gain strength faster. They tested it with 23 football players. Players trained the old way or using "autoregulatory progressive resistance exercise" (APRE). Six weeks later, players who trained with APRE were able to bench press 225 lbs for 3 extra reps, whereas players who trained the old way did not improve. This strategy has been proven to build strength faster, and we're introducing it in beta today inside Dr. Muscle. To learn more about APRE, check out point #2 in
3 Science-Based Training Strategies That Help You Build Muscle Faster
.
Custom weight increments
Tell Dr. Muscle what weight increments you have available (e.g. 5 lbs or 1 kg) and you'll only get recommendations that fit those increments.
Bodyweight Exercises and Workouts
Dr. Muscle now supports bodyweight exercises! Create your own, or select from our default list. We've also added bodyweight workouts levels 1 and 2. Now, you can train from home with no equipment, in as little as 9 minutes.
Normal sets
Normal sets is a top requested feature, so I'm pumped to bring it to you today! Normal sets are better for strength development and can be safer for multi-joint lifts (especially if you carry them to failure). Downside: they take more time.
Choose Your Background Image
You can now choose from a male, female, or no image (solid black) background.
Smash New Records: Recover With Easy Workouts
You start lifting weights. A few months later, you've gained a fair bit of muscle. You lift heavier weights, and you do more sets. Your workouts start to beat up your body. So, you need more time to recover between workouts than you used to. This is where easy workouts come in.
Now, when you reach level 4 in Dr. Muscle, the app will add easy workouts automatically to your program. These workouts help you recover, and prime you for your next hard workout. That way, you can continue to get stronger and build more muscle, even as you lift heavier weights, do more sets, and need more recovery.
Fine tune your training with reps in reserve
Build muscle faster with this tip from the first US male powerlifter to win gold at the World Games: Reps in Reserve.
There are many ways to apply reps in reserve, and the specifics can get quite complex. To simplify, Dr. Muscle now automates all of this for you. If your sets are easy and you have many reps in reserve, Dr. Muscle will push you harder. If your sets are hard and you have zero reps in reserve, Dr. Muscle won't increase your weight at all. This proven system has created world champions, and now it's available to you with just a few taps.
Customize your rep range
We've just updated Dr. Muscle to let you choose your rep range, and focus on:
Building muscle and strength (5-12 reps)
A mix of building muscle and burning fat (8-15 reps)
Fat-burning mode (12-20)
Custom (any range between 5 and 30 reps)
Quick reminder: Low reps are better at increasing strength. High reps burn more fat and are easier on your joints. Ready to choose? You can now, when you update Dr. Muscle.
Build muscle in half the time!
Prestes et al. (2017)
found that you could build muscle just as fast with 1 rest-pause set than you would with 3 normal sets. And now, it's easier than ever to use rest-pause. Our new update automates rest-pause fully, and our app now guides you step by step through your rest-pause sets. I believe in simplicity and clarity, so I've made it as easy and automated as possible.
Warm up with Dr. Muscle
In a systematic review,
McCrary et al. (2015)
found "strong research-based evidence" that "warm-ups enhance power and strength performance." So, you should warm up before each set with light weights. And now, Dr. Muscle tells you exactly how.
Your Program Levels Up Automatically
It is said that Milo of Croton gained enormous strength by lifting and carrying a newborn calf daily as it grew to a mature bull.

Now you can do almost the same thing: with this update, your program levels up automatically as you do it. You'll also always know exactly where you stand, with a countdown on your home screen. Every time you level up, you'll do new exercises and hit your muscles from new angles (this helps to hypertrophy them in full).
New Workouts With New Exercises
New workouts!
This update brings more advanced (level 3) workouts that include new exercises. These new exercises will stimulate growth in different regions of your muscles and help to hypertrophy them in full.
This is supported by research from Brazil, in which hypertrophy of the quads (vastus medialis and rectus femoris) was greated for subjects who varied exercises every 3 weeks than for subjects who used the same exercises for 12 weeks (
Fonseca et al. 2014
).
"Workout now" button on your home screen
Ever forget which workout is next?

Happens to me all the time. You're ready to train, but you first have to fumble through your workouts, frowning while you remember which one is up today. Big hassle.

This update fixes that with a large easy "Workout now" button on your home screen. Open the app, tap "Workout now", and today's workout opens and you're ready to train. It doesn't get much easier.
Exercise Swap
We've added the ability to swap an exercise mid-workout.
Improved Algorithm
We've improved the algorithm powering Dr. Muscle:
You'll never do more than 5 sets (down from 6)
You'll never do fewer than 5 reps (up from 4)
You'll improve 30-50% when you lift <= 12 kg
30-50% may sound like a lot, but for light weights the actual increase is small. For more info, check out:
Building Muscle With Dr. Muscle's AI: The Science Behind The App
New Charts That Show Your Progress
We've improved the history screen, with charts for any or all exercises, from your last 3 workouts to all time. You can now also scroll through your logs for individual exercises.
14 new workouts!
We've added 14 new workouts to the app. These add new exercises in rotation when you level up your workouts.
Supersets
We've added a superset feature to the app. You can now superset 2 exercises or more.
New! More advanced deloads
New update! With more advanced deloads.
The app now understands in more detail what's going on with your training and cut sets 50% and load 90% when you plateau—it will also let you know when its making these changes and link to an article on our blog that explains everything. Speaking of which:
Deload: How To Break Your Plateau And Start Building Muscle Again
New Website
We've updated our website with:
New video demo
Screenshots
Customer reviews

And more! Check out our new website for more information about Dr. Muscle.
Between Sets: How Long Should You Rest To Build Muscle Faster?
New timer
We've just added a timer! Time your rest between sets with:
Sound
Vibrate
Autostart (when you tap to "Save" a set)
New onboarding, self-test (choose your workout plan), and more!
We're proud to announce a new update to Dr. Muscle! Featuring:
New onboarding
New self-test (choose your workout plan)
Log in with Facebook
Improved recommendations for reps
Improved recommendations for weights
Weights recommended in 1 kg / 2.5 lbs increments
Workout plans now available inside Dr. Muscle!
This is a big update. Just released on Google Play and the App Store...
Workouts! Choose from our 6 workout plans (home, gym, 3-day, and 4-day/week)
Create your own workouts (add exercises from your list and order them as you please)
User interface: workouts and exercises are now shown separately
User interface: "My Workouts" and "My Exercises" are now shown separately
Dr. Muscle is free to try. To start your trial, simply:
All the best,
Team Dr. Muscle
3-Point Checklist For Updating Your Muscle Building Workout Plan
Update To Password Recovery
Recover your password from inside the app

Fixed memory a bug that caused the app to crash after prolonged use on Android
Training Reference: 3 Evidence-Based Training Strategies That Help You Build Muscle Faster
If you want to build muscle faster, then you should try these 3 evidence-based training strategies:
Use "Daily Undulating Periodization" And Change Reps Every Workout To Build Strength And Muscle Faster
Finish Strong With A "Plus Set" To Find Out How Much Heavier You Should Lift To Keep Building Muscle Fast
...
Read more:
3 Evidence-Based Training Strategies That Help You Build Muscle Faster
Update to exercise list
You can now:
Rename exercises
Delete exercises
Log out (from new top right menu)
Also (on Android only):
"OK" buttons are now green
"Delete" buttons are now red
Version 2.0 now available on Google Play and the App Store
We are proud to announce that Dr. Mucle version 2.0 has just been released on Google Play and the App Store.
Version 2.0 includes:
New user interface and bug fixes
Improved algorithm to compute your next weights, reps, and sets
Exercise log (you won't have to enter your sets and reps again)
New cloud servers (your full workout history saves automatically - you'll never lose your data)
Dr. Muscle is now free to try (14-day free trial). To start your trial, simply:
All the best,
Team Dr. Muscle
Version 1 is launched
Our first launch was truly amazing.